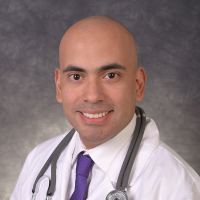 Andres Gil
---
Provider Bio:
When did you know you wanted to become a provider? 
After working as an intensive care unit registered nurse for 8 years, I wanted to help patients prevent the worsening of chronic disease from the outpatient setting. Becoming a nurse practitioner allowed me to educate and treat my patients, aiming to keep them healthy and prevent hospitalizations.
What inspired you to choose your specialty?
By becoming a family nurse practitioner, I knew I could make a difference in my community's health in a more flexible manner. Being able to treat patients of different ages in settings outside of the hospital was key in my goal of focusing on preventative care.
What conditions or procedures are you especially interested in?
I have a particular interest in the management of chronic disease in underserved communities. I enjoy educating my patients about their health, getting them involved in the plan of care and having the opportunity to approach their well-being in a holistic manner.
What are your hobbies?
I enjoy reading, spending time with my children, bike riding and traveling.
Please list your education and medical training.
I received my Bachelor of Science in Nursing from the University of North Florida in 2007. I then completed my Master of Science in Nursing as a Family Nurse Practitioner from the University of Texas Medical Branch at Galveston in 2015. I also have a Bachelor of Business Administration in Management Information Systems from Southwestern Adventist University in 2003.
List your board certifications and any awards you may have received.
I'm a certified Family Nurse Practitioner through the American Association of Nurse Practitioners