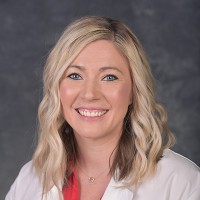 Desseree Lysne-Burson
---
Credentials: Dental Medical Doctor
Specialties: Dental Care
Provider Bio:
Desseree Lysne-Burson is a Dental Medical Doctor.  She earned a Bachelor's Degree (B.S.) in Biochemistry with Medicinal Chemistry Concentration at Arizona State University, a Master's Degree (M.S.) in Biomedical Science at Midwestern University, and a Doctorate (D.M.D.): Doctor of Dental Medicine at Midwestern University.
Desseree knew she wanted to go into medicine from a very young age. It wasn't until college that she discovered dentistry was the right fit for her. She loves dentistry because it blends art, science and ability to care for patients. Throughout college, Deserree volunteered and shadowed in hospitals, pharmacies, and dental clinics. While shadowing, she found that dentists had the best patient-provider relationships and the most fun with their patients.
As a dentist, Desseree is motivated to help dental phobic patients become more comfortable visiting the dentist. She also enjoys performing extractions and oral surgery.
Desseree volunteers annually at AZ Mission of Mercy, a dental event in Phoenix which provides free care to those in need, and has volunteered for Give Kids a Smile, a free dental event for kids in Tucson. She has given community health lectures in the Tucson area on dental care and is on the Board for the Southern Arizona Dental Society. Desseree also participates with legislative initiatives with the Arizona Dental Association.
When she is not working, Desseree's family is her number one priority. She enjoys hiking and the outdoors.
Desseree is currently accepting new patients at MHC Healthcare, 13395 N. Marana Main St in Marana. To schedule an appointment, call (520) 682-4111.