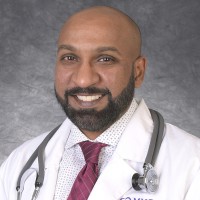 Rohit Chetty
---
Provider Bio:
When did you know you wanted to become a provider?
I decided to go into healthcare while recovering from my own surgery. I reflected on how there are people much sicker for much longer and deserve compassionate care.
What inspired you to choose your specialty?
I chose family medicine because I enjoyed working with people of all ages during medical school and volunteering.
What conditions or procedures are you especially interested in?
I enjoy helping people manage their chronic conditions and keeping them from going to the hospital as best as possible. I also enjoy procedures such as suturing lacerations, nail removals and joint injections.
Do you volunteer or participate in community activities?
I enjoy going out into the community and speaking to people about mental health issues including PTSD.
What are your hobbies?
I enjoy playing piano, guitar. I also enjoy bicycling, hiking, watching mystery documentaries.
Education and medical training
Bachelors of Science of Electrical Engineering – California State University, Northridge, CA
Ross University School of Medicine – Miramar, FL
UCSF Natividad Family Medicine Residence – Salinas, CA
Board certifications
American Board Family Medicine – Board Certification