Cotton Blossom Resale Store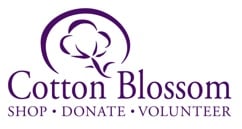 MHC Healthcare's Cotton Blossom Resale Store is dedicated to providing great prices
MHC Healthcare's Cotton Blossom Resale Store is dedicated to providing high quality, gently-used merchandise at great prices. Proceeds generated from the resale of goods provide vital funding for families and individuals in need. 
The Cotton Blossom accepts new and used items from local charities, businesses, department stores, estate sales, and community members. 
Large item pick-up is available by appointment.
The Cotton Blossom is also a training site for our Work Adjustment Program.