MHC Healthcare's Copper Café
MHC Healthcare's Copper Cafe is located on the first floor of our Marana Main Health Center. The Copper Cafe also offers tasty treats, specialty coffee drinks, healthy breakfast and lunch meals.
The Copper Cafe is also a training site for our Work Adjustment Program.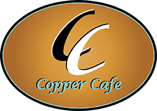 Operating Hours
Monday - Friday: 7:00 a.m. - 3:00 p.m.
Saturday - Sunday: Closed
Call:
(520) 616-1500