MHC Healthcare TeleVisits are just like a regular appointment, except that you interact with your provider using the Internet and your smartphone, tablet, iPad, or computer. 
How Do I Make an Appointment?
To begin your TeleVisit, follow these easy steps: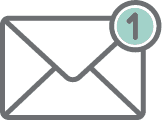 You will receive a message confirming your appointment. The message will contain info needed for the appointment.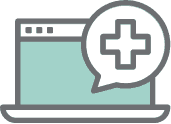 Within two hours of your scheduled visit, you will receive a message with a link to click on to enter the TeleVisit appointment.
Frequently Asked Questions
Yes, insurance will cover telemedicine the same way as if the appointment is completed in the office, during the COVID-19 situation.
Our providers conduct all visits in an enclosed room. In addition, the software used for the TeleVisits has achieved HIPAA Compliance through the HHS Security Risk Assessment tool. The results indicated that WebEx can be used by healthcare providers in a way that meets their HIPAA obligations.
No. All you need is an internet connection, an email account, and one of the following devices: smartphone, tablet, iPad, or personal computer. If you are using a computer, be sure that it has a webcam, speaker and microphone (or headset).
TeleVisit services can include:
When to use TeleVisit services:
Our providers are certified in internal medicine, family practice or pediatrics. TeleVisit appointments can be used to diagnose, recommend treatment and prescribe medication, if medically necessary, for many medical issues, including:
Sore throat and stuffy nose
Allergies
Cold and flu symptoms
Bronchitis
Poison ivy
Pink eye
Urinary tract infections
Respiratory infection
Sinus problems
TeleVisits are not appropriate for those with more emergent health care needs. For emergency need please seek medical care immediately by going to the nearest emergency department or calling 911. The following symptoms may indicate a medical condition that requires immediate medical attention:
Shortness of breath, chest pain or pressure
Severe bleeding, injury or allergic reaction
Weakness and/or numbness to one side of your body
Loss of consciousness/fainting
Abdominal pain/discomfort
Diabetic complaints
Severe depression, hallucinations or thoughts of suicide
Pregnancy-related concerns