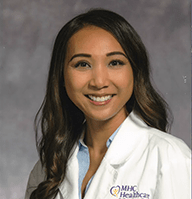 Katrina Alt
---
Credentials: Dental Medical Doctor
Specialties: Dental Care
Provider Bio:
When did you know you wanted to become a provider?
Growing up in a small town where running water didn't exist and electricity was a luxury, access to dental and medical care was not available. Although we lacked the necessary amenities at the time, my parents always reminded me the importance of caring for others with what we had. I grew up watching my mother dedicating her free time caring for the sick and dying. Because of her, I knew I wanted to have a career where I could provide care to others.
What inspired you to choose your specialty?
Dentistry became an interest at the age of 13 for me. That was the first time I went to the dentist. It was the start of a long process to restore my oral health. Instead of being afraid, I looked forward to each and every appointment because I was excited to have healthy teeth again. I volunteered at dental clinics dedicated to the underserved populations during my undergraduate years and knew I wanted to work at a community clinic if given the opportunity.
What conditions or procedures are you especially interested in?
Oral surgery, crowns, cosmetic dentistry, and orthodontics are some of the dental procedures I enjoy doing.
Do you volunteer or participate in community activities?
I've participated in Give Kids a Smile Day in Tucson and Phoenix and Special Olympics in Phoenix.
What are your hobbies?
Outside of work, my priority is my family. We love explore new places together. I also like to hike and read.
Education, Medical Training, Awards
Certificate in Public Health – Dental Emphasis at the Arizona School of Dentistry & Oral Health-ATSU
Bachelor of Science (B.S.) in Dental Hygiene at the University of Minnesota-Twin Cities
Doctor of Dental Medicine (DMD) at the Arizona School of Dentistry & Oral Health-ATSU